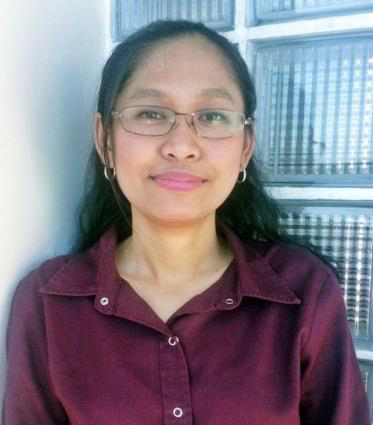 Ma. Simeona M. Martinez 
       Assistant Professor
Email: ma_simeona.martinez@upd.edu.ph
Education: 
Master of Science in Remote Sensing, University of the Philippines Diliman
Bachelor of Science in Geography, University of the Philippines Diliman
Specialization: Remote Sensing
Research Interests: Agrarian Transition; indigenous peoples' rights; GIS for local and community-based management planning; GIS for education; countercartographies
Courses Taught:
Geography 1: Places and Landscapes in a Changing World
Geography 11: Economic Geography
Geography 135: Rural and Urban Geography
Geography 109: Quantitative Methods in Geographic Analysis
Geography 190: Map, Aerial Photo, and Satellite Image Interpretation
Geography 192: Field Methods in Geography
Geography 197: Digital Cartography
Geography 243: GIS Applications for the Social Sciences
Environmental Planning and Management-Urban Planning and Green Architecture (EPU) 119: GIS-based Mapping (taught @ Miriam College)
EPU 120: GIS-based Spatial Analysis (taught @ Miriam College)
EPU 139: Natural Resources and Ecosystems Management Science (S)-113.1: Fundamentals of Ecology (Lecture) (taught @ Miriam College)
Publication:
Ortega, A.A., Martinez, M.S.M., Dayrit, C. and Saguin, K.K. (2018). Counter mapping for resistance and solidarity in the Philippines. To appear in Counter cartography is education. This is not an Atlas. Bielefeld: Transcript Publisher.
Martinez, M.S.M., Lagman, M.S.B, and Villasper, J.M. (2016). Manila suburbs and the spatial characteristics of work in the late 19th century Manila. E-Journal of Asian Network for GIS-based Historical Studies (ANGIS), 4, 44-61. http://www.l.u-tokyo.ac.jp/~angisj/ANGIS(Japan)_en/JANGIS4.html
Lagman, M.S.B., Villasper, J.M, and Martinez, M.S.M. (2015). Spatial Patterns of Migration in 19th Century Manila: An Exploratory Characterization of Migrants in the Pueblos of Dilao, Malate, and Pandacan from 1881-1895. E-Journal of Asian Network for GIS-based Historical Studies (ANGIS), 3, 3-11. http://www.l.u-tokyo.ac.jp/~angisj/JANGIS3/JANGIS3.html
Lagman, M.S.B. and Martinez, M.S.M. (2014). Assessing the characteristics of late 19th century Manila-based business establishments: A review of the Contibucion Industrial. E-Journal of Asian Network for GIS-based Historical Studies (ANGIS), 2, 66-77. http://www.l.u-tokyo.ac.jp/~angisj/jangis2/index.html