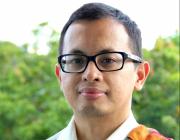 Kristian Karlo C. Saguin
Associate Professor
Email:  kcsaguin@up.edu.ph
Education:
Ph.D. in Geography, Texas A&M University, Texas, USA
Master of Science in Geography, University of the Philippines
Bachelor of Science in Geography, University of the Philippines
Specializations: Political ecology, urban political ecology, urban studies, resource geographies, fisheries and aquaculture
Publications:
Saguin, K (2018) "Return the lake to the people": Populist political rhetoric and the fate of a resource frontier in the Philippines. Annals of the American Association of Geographers. DOI: 10.1080/24694452.2018.1483815
Saguin, K (2018) Political ecologies of urbanizing natures in Southeast Asia. In: Routledge Handbook of Urbanization in Southeast Asia, ed. Padawangi, R. Routledge: London, 355-365.
Saguin, K (2018) Mapping access to urban value chains of aquaculture. Aquaculture, 493: 424-435.
Saguin, K (2017) Producing an urban hazardscape beyond the city. Environment and Planning A 49(9): 1968-1985.
Saguin, KK, Chanco, CJ, Tan, AI, and Ortega, AA (2017) Reclaiming social equity in land use planning for sustainable cities. Public Policy 18: 99-126.
Saguin, K (2016) Blue revolution in a commodity frontier: Ecologies of aquaculture and agrarian change in Laguna Lake, Philippines. Journal of Agrarian Change 15(4): 571-593.
Saguin, KK (2016) States of hazard: Aquaculture and narratives of typhoons and floods in Laguna de Bay. Philippine Studies: Historical and Ethnographic Viewpoints 64(3-4): 527-554.
Saguin, K (2014) Biographies of fish for the city: Urban metabolism of Laguna Lake aquaculture. Geoforum 54: 28-38.
Research Projects:
Project Leader, "Political ecologies of interstitial food production spaces in Metro Manila," Aug 2016-Jul 2019, funded by the University of the Philippines – Office of the Vice Chancellor for Research and Development
Project Leader, "Toward Philippine green cities: Assessing land use, community practices and policies on urban sustainability," Apr 2015-Apr 2016, funded by the University of the Philippines – Center for Integrative and Development Studies